Bike For Food – "Pedal for Food Pantries"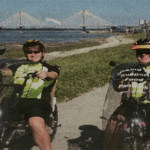 MAKE YOUR DONATION TODAY!
Area Food Pantries Desperately Need Your Help
2023 Bike for Food Pantries Contact Information
Quanada Food Pantry, 2707 Maine, Quincy, IL  62301.  Contact Megan Duesterhaus, 217-222-0069.  megand@quanda.org • DONATE
St. Francis Food Pantry, 1721 College, Quincy, IL  62301.  Contact Mary Beth McGee, 217-222-2898.  church@stfrancissolanus.com • DONATE
Canton Christian Church Food Pantry, 512 College, Canton, MO  63435.  Contact Maxine Hark, 573-288-3018. cantondisciplecc@gmail.com • DONATE
---
Since 2006, Bike for Food Pantries has raised over $805,000 for food pantries in Illinois, Iowa and Missouri. The 2022 Bike for Food Pantries raised $23,042 for food pantries in the area of Quincy, IL. The 2023 Bike for Food Pantries goal is $30,000.
This year Mark Wiewel his continuing the 'Bike for Food Pantries" Program independently. His goal is to help these food pantries increase their donations of cash, checks, food, personal hygiene products, school supplies, etc. through is cycling efforts and advertising.
Mark will personally match a portion of the total donations received by each of the 6 Bike for Food Pantries in 2023, that are marked with the word 'BIKE", or are attributed to the fund raiser as determined by each food pantry director. Checks should be made payable to the food pantry, include the word "BIKE" and mailed directly to the food pantry. In addition to checks; food pantries will also accept cash, food, personal hygiene products, cleaning supplies and school supplies. Donations are always needed and very much appreciated. Thank you for your support. If you have any questions about Bike for Food Pantries, please call Mark Wiewel at 217-242-5035. Donations made to food pantries are tax deductible.
Scripture reading from the book of James on "Faith and Good Deeds"
"What good is it, dear brothers and sisters, if you say you have faith but don't show it by your actions? Can that kind of faith save anyone? Suppose you see a brother or sister who has no food or clothing, and you say, "good-bye and have a good day; stay warm and eat well"—but then you don't give that person any food or clothing. What good does that do? So you see, faith by itself isn't enough. Unless it produces good deeds, it is dead and useless." James 2:14-17 NLT.
---
Food Pantries helped throughout the years:
Alton Catholic Charities, Alton, IL • DONATE
Palmyra Food Pantry, Palmyra, MO • DONATION ADDRESS
Canton Council of Churches, Canton, MO • DONATION ADDRESS
Quanada Food Pantry, Quincy, IL • DONATION INFORMATION
Madonna House Food Pantry, Quincy, IL
Douglass Community Services, Hannibal, MO • DONATION ADDRESS
Ft. Madison Food Pantry, Ft. Madison, IA • DONATION ADDRESS
Ladies of Charity, Quincy, IL • DONATION ADDRESS
St. Francis Food Pantry, Quincy, IL • DONATION ADDRESS
Horizons Social Services, Quincy, IL • DONATE
Salvation Army, Quincy, IL • DONATION ADDRESS
Quincy Catholic Charities, Quincy, IL • DONATION ADDRESS
GPS Ministries, Quincy, IL • DONATION ADDRESS