Leader will bike for food cause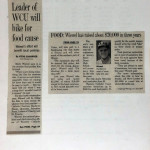 Wiewel's effort will benefit local pantries
By STEVE EIGHINGER, Herald-Whig Staff Writer
Mark Weiwel says it is the mission that pushes him forward.
"When you're doing something like this for someone else, it serves as motivation, especially when it's raining for three days and it would be easy to (quit). … But my mom told me when I was young that I wouldn't melt if it rained," he said.
For the fourth consecutive year, Wiewel will be riding his bike to raise money for Quincy-area food pantries–Catholic Charities, Madonna House, Quanada, Salvation Army, Ladies of Charity and St. Francis.
Wiewel, the national president and chief executive officer of Western Catholic Union, will take part in a fundraising ride that starts in Seneca and will cover much of the northern part of Illinois.
"The maximum trip will be around 585 miles, but that's for the young, skinny guys," Wiewel said. "I'm shooting for a little more than 400."
Last year, Wiewel rode 415 miles and raised $12,000, of which $10,000 stayed in the local community.  He's raised $20,000 overall in three years.
Wiewel's son, Matt, a 15-year-old sophomore at Quincy Notre Dame High School, will accompany him on the ride this year.
The ride starts Saturday and concludes June 20.
Western Catholic Union matches donations up to $500 for each food pantry. To qualify for the match, donors should write the word "bike" on their check or money order.
Food pantries nationwide are in need of assistance this year.  All such agencies have been taxed because of the deep recession.
"They are always in need of assistance, but even more this year," Wiewel said.
For more information about the ride or how to donate, call Steve Looten at 653-3900 or e-mail him at slooten@wculife.org.
–seighinger@whig.com / 221-3377