Wiewel family bikes for food, in memory of late mother and wife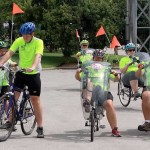 SIOUX CITY, Iowa — Mark Wiewel and his five children are riding in the Register's Great Bicycle Ride Across Iowa this week to benefit regional food pantries and in memory of Karen Wiewel, his wife and the children's mother.
Mrs. Wiewel died this year after a six-year battle with cancer.
"She passed away in January, and the kids, ages 18 to 29, wanted to do RAGBRAI and dedicate it to mom and make sure dear old dad made it all the way across Iowa," Mark Wiewel said.
The children are Caroline, AJ, Stephanie, Matthew and Mark Jr.
This is the 10th year that Mark Wiewel, 57, has been raising money for charities and food pantries in particular.
"Through nine years I had raised a total of $203,000 and about $165,000 of that in this region," Wiewel said.
This year he hopes to raise about $40,000. The Western Catholic Union, where Wiewel is president and CEO, helps with those donations, matching the first $500 going to each of the food pantries.
The Wiewels all will be making the ride on recumbent bicycles. Wiewel said although the bikes have been jokingly called "recliners on wheels" they have larger seats and better back support. Some doctors say they put less stress on knees and hips than traditional bikes.
Wiewel said they also present some challenges.
"Recumbents go down hills like a rocket and up them like a turtle," Wiewel said.
That makes a big difference in the RAGBRAI where the entire ride has 17,000 feet of uphill climbs. The organizers do not count downhill grades along the 500-mile travel route.
"If you consider that in rolling hills the average hill may be 170 feet high, in the seven-day ride we will climb 100 of those," Wiewel said.
The Wiewels, and about 15,000 other riders also are hoping for good weather this week. Rain, wind and hail can make bicycling a big challenge.
On July 11, Wiewel and his oldest daughter, Caroline, went for a ride and got caught in a downpour.
"We were on Ill. 336 from Mendon, and it rained so hard I had to pull my glasses off because I just couldn't see," Wiewel said.
The Wiewel family started Sunday with a difficult leg of the journey across Iowa. Pedaling out of Sioux City, they had to climb hills several times, moving from the Missouri River bottoms to Storm Lake about 76 miles away. Two Wisconsin bicyclists had an even rougher start when their tandem bicycle was hit by a driver who was arrested for operating a motor vehicle while intoxicated, no insurance and failure to obey a police officer.
Monday's 69-mile route was expected to bring riders to Fort Dodge. The final leg of RAGBRAI will end in Davenport.
Bike For Food
Checks may be sent to "Bike for Food" with BIKE written in on the memo line.